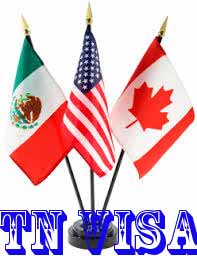 If you want to travel to the U.S. temporarily to work, then the TN visa is for you. The TN visa allows you to work in the U.S. for a 3 year term that can be extended over and over. You can apply for a TN visa at a port of entry if you are Canadian but if you are Mexican you will need to apply at a U.S. Embassy or consulate from Mexico.
The documentation you must provide include:
Identification (i.e. passport or citizenship card)
Your relationship to your spouse and children (i.e. you can show your marriage certificate and your children's birth certificate)
Your worker agreement with your employer
Bringing your resume along with references is recommended
The job offer that states your job, the conditions in which you will work in
The job for which you'll work must be enough to maintain your family
Your job also must meet the requirements of the TN visa:
The employer must be American
You must work under the American employer
Recognized under NAFTA
You must qualify for the job
The job must require a NAFTA professional
And must be pre-arranged to be part-time or full-time
As a NAFTA professional you are allowed to bring your family members who can be your spouse and children who are under 21 years of age and single. You cannot bring your parents or siblings. They would be classified as TD dependents. You must provide proof of your relationship with them to the CBP officer at a U.S. port of entry. This proof can be your marriage and birth certificates.
Your spouse and children under 21 years of age will not be allowed to work during the duration of their stay. But your children will be allowed to study while there.
To seek an extension of staying, you must seek an extension of staying. But you must provide an intention of returning in the future though. This will also permit any TD dependent who wishes to extend their stay to do so.
Contact Akrami & Associates
It would be beneficial to seek the help of a legal adviser because they can help you to make a strong application with the appropriate documentation and this can further increase your chances of getting the TN visa and to be working in the U.S.