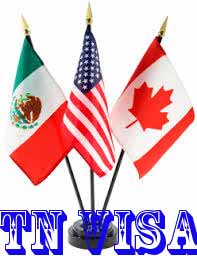 The TN visa was created as a result, of the free trade agreement that was signed by all the countries in North America. Eligibility for a professional to get a TN visa under the North American Free Trade Agreement (NAFTA) is as follows:
The applicant must be a citizen of Canada or Mexico;
The profession of the applicant is on the NAFTA list;
The position the applicant has attained in the United States requires a NAFTA professional;
The applicant must work in a prearranged full-time or part-time job for an employer;
In addition, the applicant must have the specific qualifications that are required for the job, as well as the specific education, and/or experience required for the profession.Self-employment is not permitted and does not fall under the TN visa requirements and does not qualify as a NAFTA professional. If you are not a Canadian or Mexican citizen, you cannot apply for the TN visa. Persons with Permanent Residence do not qualify for the TN visa.There are different requirements for Canadian citizens versus Mexican Citizens when coming into the United States as a NAFTA professional. Although Mexican Citizens always require TN visas to request admission into the US, in some cases for Canadians, they do not need a visa. As a NAFTA Professional and a Canadian citizen, you usually do not need a visa as a NAFTA Professional, although the visa can be issued to a qualified Canadian for the TN visa, upon request.

As a Canadian citizen, you can apply for a TN non-immigrant status at a US port-of-entry, which is an alternative to getting a TN visa.

There are some instances when a NAFTA Professional (TN) visa may be required for Canadian citizens. In cases where a Canadian, who does not have a TN non-immigrant status, lives in a third country that is not Canada or the US, with a non-Canadian spouse and/or children, who wants to enter the US as a NAFTA professional at the same time as one of their family members. They will need a TN visa in order for the family members to be eligible to apply for derivative TD non-immigrant visa(s).

Ineligibility

There are certain situations that may make a visa applicant ineligible for a visa, which are called visa ineligibilities, and these situations may deny you from getting the visa. Some of these situations are:

Health related grounds,
Criminal and related grounds,
Security and related grounds,
Public charge,
Illegal entrants,
You had previously removed from the US, and many other reasons.For some of these ineligibilities, there may be a waiver of ineligibility they may be able to get, which then would qualify them to receive the TN visa.
Contact Akrami & Associates
Qualifying for a TN visa is not as simple as you may think. Do not hesitate to contact us; someone from our legal team will be happy to answer any questions you may have.